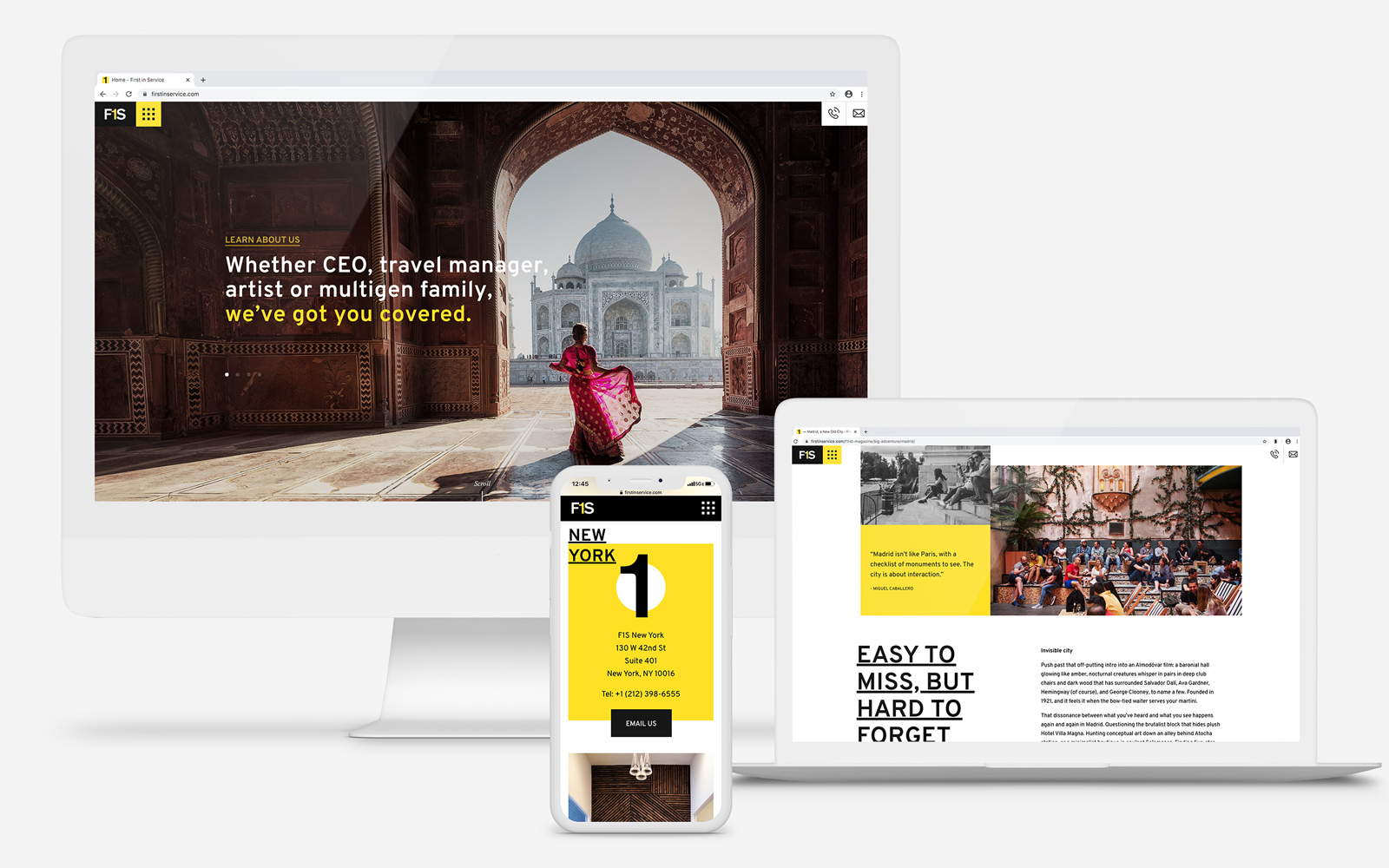 Attracting customers with exceptional UX
First in Service is a company of travel experts who know what they do best: creating bespoke personalized trips and exclusive experiences, putting customers first, and treating their employees and customers like one big happy family. They wanted their website to be as unique as the top service they provide, so they turned to M+ to help conceptualize, design and implement a new digital platform.
One of our main goals was to create an extraordinary lifestyle magazine that would draw in the readers and inspire them to seek out their next adventure with F1S. We gained insight from participating in the many audience interviews of the discovery phase and developing the recommended strategy. From that, we created a cutting-edge desktop design in the style of an exclusive arts, culture & fashion editorial publication, using layouts that flow seamlessly, carefully selected images, and oversized stylized fonts. Our first challenge was to translate this vision into a great mobile and tablet design, executed to perfection.
The design also had to speak to a wide range of customers—business executives, leisure travelers, celebrity travel managers, and event organizers— in order to truly live up to the company's motto of "we put you first." What's more, F1S did not want an online booking platform, meaning we had to find ways to make sure visitors to the site would be so captivated by the experience and content they'd be motivated to contact the company on the spot. We accomplished this through strategically placed non-invasive Calls to Action providing direct contact with F1S representatives 24/7.
The result is a stunning and engaging redesign positions the new F1S digital platform as the #1 in the travel world in terms of UX. And there is no doubt that our careful selection of photography and art direction conveys the brand's warm personality and inspires customers to join the family.
Click here to see the great new Website we've created:
Strategy & Brand Voice | Creative Direction | Digital Branding | Photography Curation | Web Design & Implementation