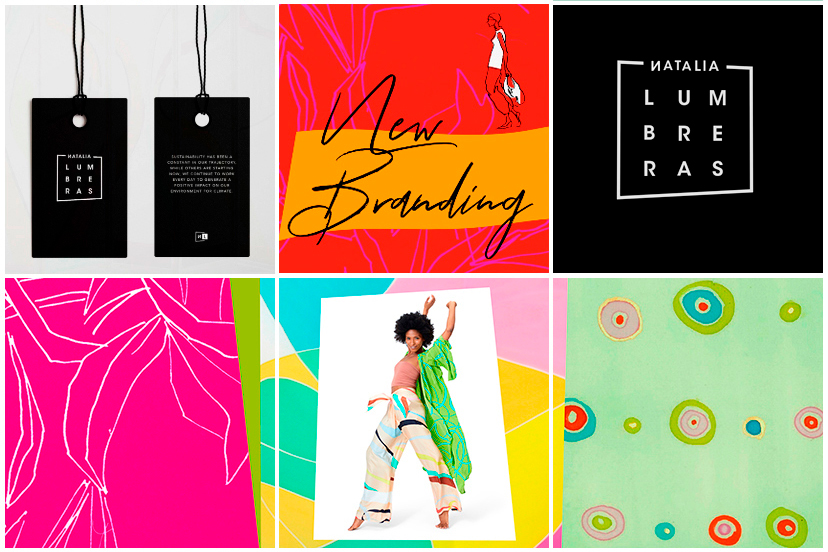 Spinning artistry in motion
Natalia Lumbreras is a Spanish fashion designer who evokes an energetic and whimsical world. Steering clear of trends, she creates lifelong garments from exquisite textiles and hand-painted silks, which can just as easily be worn or displayed as artwork.
She came to MERRY+ seeking a new brand and digital presence that needed to capture all the movement and color of the work, as well as the vibrant personality of the artist behind it. We looked to Natalia's creations and sketchbooks for inspiration, aiming to replicate that carefree spirit of happy accidents where there are no rules.
We developed a bold new brand identity based on Coquelicot red, her favorite color, paired with timeless fonts. The logo's backwards N recalls her youthful habit of mirrored writing, and the website borrows some of her shapes and forms and gives them that same irreverent and playful feel.
For the launch campaign photoshoot, we had the chance to photograph Jacqueline E. Green (first ballerina of Alvin Ailey) , instead of a model to better show the clothes in their natural state of perpetual motion.
As a result of some main SEO optimizations such us: conduct competitor research, exploring link-building opportunities, optimizing the website's meta title and meta description and others, we were able to improve both organic traffic and ranking positions for multiple keywords that are essential to the client's business.
We're thrilled with the results:
• Online and of offline sales are growing through the roof.
• Extremely positive response rate for the SEO/SEM campaign.
• The relaunch has boosted the pro le of Natalia and her brand; the art and fashion worlds have taken notice, inviting her to prestigious events, conferences, and venues.
Check out the great Website we designed and built:
Check out the fun branded content we created NL's Social Media:
Brand Strategy | Creative Direction | Identity Design | Packaging | Photography Launch Campaign | Social Branded Content | Web Design & Implementation